Spray Paint Artist, YOSHI's Event Calendar
Here is the list of Spray Paint Artist, Yoshi's scheduled street performances and live events.

※There are possible schedule changes due to weather or any other circumstances. Yoshi will update the latest news on his blog. Please check from here. (You can also check from your mobile.)

Date/venue/details

Date
venue
details

January 9, 2011
Time:14:00-17:00
Shinjuku


<Details of seminar>
"Messages to teenagers and youth in their 20s"
"Tips to live life in a stress-free environment and enjoy doing what you like"
"3 steps to discover and realize your dream"

※Information on participants of the seminar is not released.

Yoshi updates details on his blog.
Comments from Spray paint artist, Yoshi:
◆

Date
venue
details

December 23, 2010
Time: 14:00-17:00
Near Mitaka Station
<(Venue for performance>

Interview
*Contents of the interview are not released to the public.

Yoshi updates details on his blog.

Comments from Spray paint artist Yoshi:
I was interviewed by a newspaper reporter at a coffee shop after my first spray paint art performance in Mitaka City. I enjoyed answering questions I had never been asked before. The interview article will be posted next month.
◆



Date
venue
details

December 14, 2010
Time: 15:00-18:00
Near Akabane Station
<Details>
Interview
* Contents of the interview are not released to the public.

Yoshi updates details on his blog.

Comments from Spray paint artist Yoshi:
I was interviewed by a college student who was going to study abroad. It was very fruitful as she was a quite energetic person who shared the similar values which I had when I was a student. The interview is now available in Japanese at "WAY OF LIFE" http://www.wayoflife.jp/page6.php.
◆

Date
venue
details

November 6-7, 2010
Time: 12:00-13:00
Yumenoshima-Park, Shinkiba

The closest station
7-minute-walk from Shinkiba Station, Subway Yurakucyo-line (Y24), JR Keiyo-line, and Rinkai-line
<Venue for performance>
Yumenoshima-Park, Shinkiba

<Map>
Click here for the official homepage of Yumenoshima-Park.

Yoshi updates details on his blog.

Comments from Spray paint artist Yoshi:
I performed in collaboration with a musician. The way of performing was something I had never done before, which allowed me to have a new experience and realize something new. We had about 200 audiences. I am thankful to them.
◆


  
Date
venue
details

October 26-31, 2010
Six-day Exhibition at the Artcomplex Center of Tokyo

Open hour: 11:00-20:00

*Two works of spray paint art by Yoshi will be exhibited. There will be no performance scheduled.
the Artcomplex Center of Tokyo

Address: 12-9, Daikyo-cho, Shinjuku-ku, Tokyo, 160-0015

The closest station:
7-minute walk from Exit 1, Yotsuya-sancyo-me Station, Marunouchi-line, Tokyo-Metro/Shinanomachi Station, JR Sobu-line
the Artcomplex Center of Tokyo

*Two works of spray paint art by Yoshi will be exhibited. There will be no performance scheduled.

<MAP>
Click here to visit the official homepage of the Artcomplex Center of Tokyo.

Yoshi updates details on his blog.



Comments from Spray paint artist Yoshi:
I was glad to be able to exhibit this very painting that I wanted to display the most.
Various artists were participating in the exhibit, which was truly inspiring.
◆

Date
venue
details
September 13-19, 2010, NHK Minnano-hiroba, Fureai Hall Gallery

Open hour: 10:00-18:00

*Open hours: 2:00pm -6:00pm for the opening day and 10:00am to 4:30pm for the last day

NHK Minnano-hiroba, Fureai Hall Gallery

Address: 2-2-1, Jinnnann, Shibuya-ku, Tokyo

The closest station:

12-minute walk from Shibuya Station: JR Yamamote-line/Saikyo-line, Tokyu-Toyoko Line, Denen-toshi Line, Keio Inokashira Line, Tokyo Metro Ginza Line/Hanzomon Line/Fukutoshin Line
12-minute walk from Harajuku Station: JR Yamanote-line

*There is a bus in operation from Shibuya Station to NHK Studio Park. (paid-service)
*For visitors by car, public parking is available in front of Shibuya-Ku City Hall.
Exhibition: Art Imagination Exhibition at NHK Art Gallery

*Two works of spray paint art by Yoshi will be exhibited. There will be no performance.

<MAP>
Click here for Map.

Click to visit the official homepage of NHK Fureai Hall Gallery

Yoshi updates details on his blog.

Comments from Spray paint artist Yoshi:
The first time I saw my art exhibited at the gallery, I felt like as if they were not mine. I hope that many people will get the chance to see my art and it will be able to convey something positive to the audience.

◆



Date
venue
details
July 24 and 25, 2010
Ibaraki City, Osaka
The closest station:
Ibaraki Station
Hankyu-Kyoto Line or Tokaido-Line
Yoshi will perform live as a guest of the "Ibaraki Festival" event organizer. Click here for the flyer of the event. Click for the pamphlet.

Maps for the venue
South ground (including the venue for spray paint art)
North ground (including children's mini games)
Forest (including a haunted house and athletics)

Yoshi updates details on his blog.

Comments from Spray paint artist Yoshi:
This was the first live performance I did in Osaka. I enjoyed it. It was also my first time performing in front of more than 500 people. I was able to get good feeling of both tension and excitement. I would definitely love to do my performance in Osaka again.

◆Movie



Date
venue
details
June 26, 2010
the West Exit of Shinjuki Station, Tokyo
Collaborated with singer-song-writer, Arisa, the very first performance at the West Exit of Shinjuki Station, Tokyo.

Scheduled hour: 5:30pm 7:00pm
Yoshi updates details on his blog.

*Live painting video is available on Movie Page.

Comments from Spray paint artist Yoshi:
This was the first collaboration done with a musician. I enjoyed finishing a painting in a limited time frame that a song is completed. Many people stopped to watch the performance.

◆Movie



Date
venue
details
June 13, 2010
Scheduled hour: 1:00pm-3:00pm
Koriyama Station, in Fukushima Prefecture, where Yoshi is from.
Koriyama Station, in Fukushima Prefecture, where Yoshi is from.

Yoshi updates details on his blog.

*Live painting video is available on Movie Page.
Comments from Spray paint artist Yoshi:
At my first performance in my hometown of Fukushima, I had my relatives and people walking down the street view my live performance.

◆Movie





Date
venue
details
March 18-24, 2010
Okinawa Prefecture (Naha-City of Okinawa, islands of Ishigaki, Nishiomote, Taketomi, Ohama)

Invited by a resident of Okinawa.
Further developed his senses experiencing scuba diving, visiting museums, and attending parties.

*Live painting video is available on interview of the Message Page.

Comments from Spray paint artist Yoshi:
It was the first live spray paint performance in Okinawa.

◆Movie



Date
venue
details
December 14, 2009
Hitachinaka City, Ibaraki Prefecture
Invited by a representative of a childcare facility in the city. Helped inspire children by performing live spray paint art at a Christmas event.

*Live painting video is available on Movie Page.

Comments from Spray paint artist Yoshi:
I attended to perform at a Christmas event in a childcare center in Hitachinaka City, Ibaraki Prefecture, where I had a fun time teaching how to paint to elementary school children.

◆Movie



Date
venue
details
July 25, 2009
Omiya City, Saitama Prefecture
Invited by an event organizing company for dancers and artists.
Comments from Spray paint artist Yoshi:
I performed live at an event held in a park in Omiya.

◆
Date
venue
details
August 12, 2009
Enoshima
Seaside House at Enoshima Performed on the beach.

*Live performance video is available on Movie Page.

Comments from Spray paint artist Yoshi:
I performed live in Enoshima.

◆Movie





Date
venue
details
June 12, 2009
Shinjuku, Tokyo
Live performance attracted over 100 people stopping to watch.

*Live performance video is available on Movie Page.

Comments from Spray paint artist Yoshi:
I performed at a street in Shinjuku.

◆Movie






About spray paint art
The spray paint artist, YOSHI draws paintings of universe, natures, animals, characters, and human beings as themes.
※Spray paint art is mainly drawing paintings using canned spray. It expresses trees and grasses in realistic forms, using various kinds of tools. The below painting is what Yoshi draw imaging nature.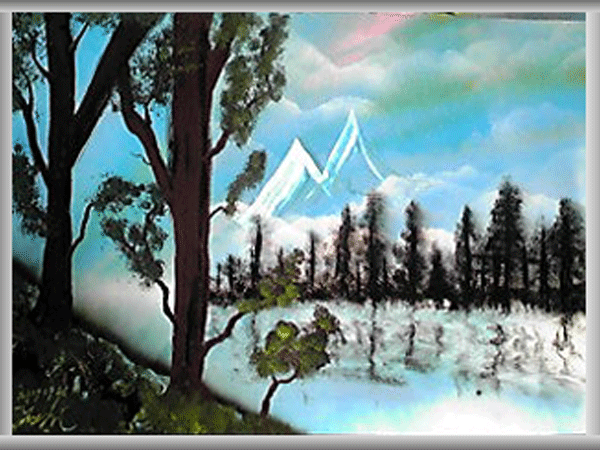 Title【Bule Sky Forest】
※Click on the picture, you will see an enlarged image.
Make a Bookmark
A variety of pictures on different themes, like the universe, animals, nature, and mysteries, are available from the Art Page menu. Please take a look.

If you wish to add this page to your favorites, please click the "Bookmark" button below.