Profile of spray art artist YOSHI
This page is profile of spray art artist YOSHI.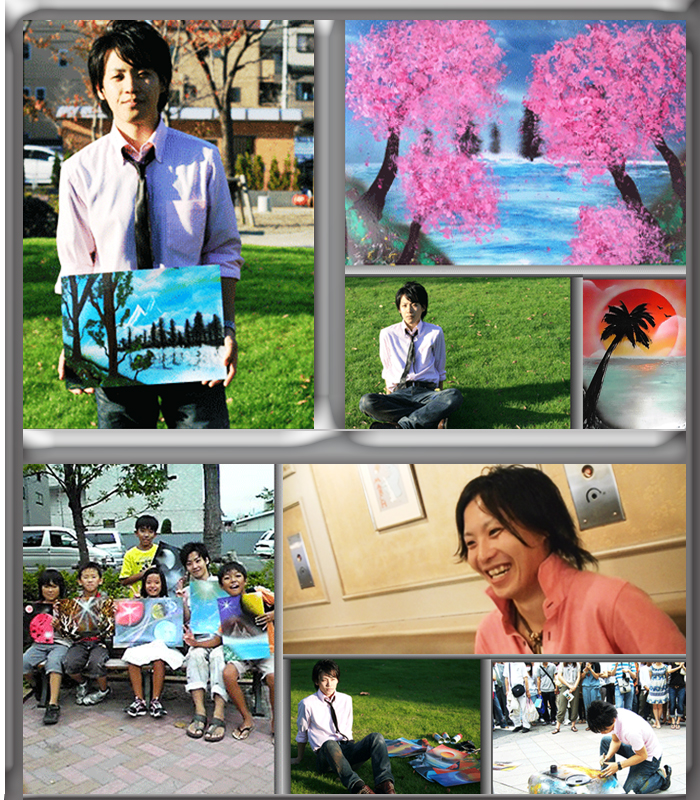 Background of spray art artist YOSHI
Born in Fukushima Prefecture in 1985.
Graduated from faculty of law, Senshu University. Grew up in the countryside surrounded by mountains and a lake where there was no convenience store. Other than the art classes in school, he had no connection with art at all. However, at the age of 23, when he worked at an IT venture company, he met a spray art master from overseas, which got him involved in the world of spray art, which is far beyond the conventional art realm.

Two weeks after engaging in spray art, he performed spray art on the street, and his performance attracted over 100 people stopping to watch. The paintings sold out instantly.
A month later, he left the company where he worked as a system engineer, and established "Vision Imagine," an art and IT business enterprise. Learning by trial and error, he developed original techniques which enabled him to systemize techniques of spraying art that enable even elementary school children to make a painting in 30 minutes without a textbook.
He gained recognition as the first Japanese spray art evangelist with global support. He also received high acclaim as a pioneer in the field of artistic entrepreneurship.

Currently, he has about 80 students, ranging from 16 to 68 years old.

He has been invited to perform at various events nationwide and disseminate his messages through spray art. He is actively engaged in street events throughout Japan.
Profile of Spray Paint Artist YOSHI
◆Name of the artist: YOSHI
◆Nickname: Yoshi
◆Date of birth: October 28, 1985
◆Hometown: Fukushima Prefecture
◆Lives in Tokyo
◆Activities and interests: Imaging, spray paint art, cooking, reading
◆Favorite food: Rice omelet, stir-fried shrimp with chili sauce
◆Sports: Snowboarding, basketball
◆Favorite musicians: Mr. Children, Exile, JUJU
◆Painters he admires: Christian Lassen, Taro Okamoto
◆Qualifications and licenses: Second-degree, Kanji official examination / Third level (dan) in Kendo
History of Spray Paint Artist YOSHI
History of Spray Paint Artist YOSHI
◆April 2004
  Moved to Tokyo from Fukushima to go to university.
  Enrolled in the faculty of law at Senshu University.
◆April 2008
  Employed at an IT venture company in Tokyo after graduating from university
◆April 2009
  Encountered a spray paint art master from overseas and was inspired to see that spray art was far
beyond the conventional art realm. The following day, tried doing spray art in the park.
◆May 2009
  Performed live spray paint art in the streets of Japan. Within 30 minutes, typically attracted over 100
people stopping to watch.
◆June 2009
  Decided to make performing spray paint art his lifework in the hope of inspiring many people, Left the
company where he had worked for a year and two months.
◆July 2009
  His street live performance video was posted on YouTube, and was seen 500 times the first month.
  Updated previous videos at
Movie Page
.
  People he has encountered at the street live performances spread the word about the official website
of spray paint artist YOSHI. As a result, he started receiving orders to purchase his works from all around
Japan.
◆August 2009
    Invited to a seaside house at Enoshima as a guest.
  Completed two paintings in ten minutes, performing live spray paint art.
  ※Live performance video available at
Art Movie Page
.
◆September 2009
  Started an "image art" project designed to create paintings that match the theme the client requests.
  Now accepting orders for "image art" works from all over Japan.
  At the end of September, realized his techniques had improved to the next level, after painting pieces
beyond what he thought he could possibly do.
◆October 2009
  Invited as a guest to an event held in a park near Omiya Station, Saitama Prefecture.
  Performed live, gaining attention from many, including seniors, young people, men and women.
◆November 2009
  Interviewed by an event organizing company.
    An article on the interview and photo taken after the interview are posted on the webpage of the
company.
  ※Interview available at
Voice Messages page
.
◆December 2009
    Invited as a performer to a Christmas event held at a childcare facility in Hitachinaka City, Ibaraki
Prefecture.
  After performing live, instructed elementary school students and housewives in spray art.
  5 students worked on 1 painting and 3 housewives worked on 1 painting, and both were successfully
completed.
◆March 2010
  Invited by a resident of Okinawa, visited Okinawa for seven days in order to improve his "spray paint
art performance" and further develop his "sense of style".
    Experiencing scuba diving, graffiti art, and toured remote islands of Ishigaki, Ohama, Taketomi and
Nishiomote for the first time in his life, Yoshi realizes his senses have further developed.
◆June 2010
  Performed spray paint art on the street in front of Koriyama Station in Fukushima Prefecture, where
Yoshi is from.
  ※Live painting video is available on
Movie Page
.
◆July 2010
  Performed spray paint art live at the performing area at the Ibaraki Festival in Ibaraki City in Osaka.   
    Collaborated with a singer-song-writer from Osaka on the main stage where over 500 people
gathered, completed painting one work along with a song.
  ※Live painting video is available on
Movie Page
.
◆August 2010
  Weekly Playboy magazine listed Yoshi as one of the seven featured Japanese painters.
  ※Live painting video is available on
Media Information Page
.
◆September 2010
  Yoshi's artworks exhibited at NHK's Fureai Hall Gallery for the first time.
◆October 2010
    The Artcomplex Center of Tokyo in Shinjuku Ward exhibits Yoshi's works.
◆November 2010
  Performed spray paint art in Yumenoshima Park in Shinkiba, attracting approximately 200 men and
women of all ages.
◆December 2010
  Interviewed by journalists and students from overseas.
  ※Yoshi's activities are available at
Schedule Page
.
  Currently actively performing at various street events and in all quarters.
  Details for
event schedules
.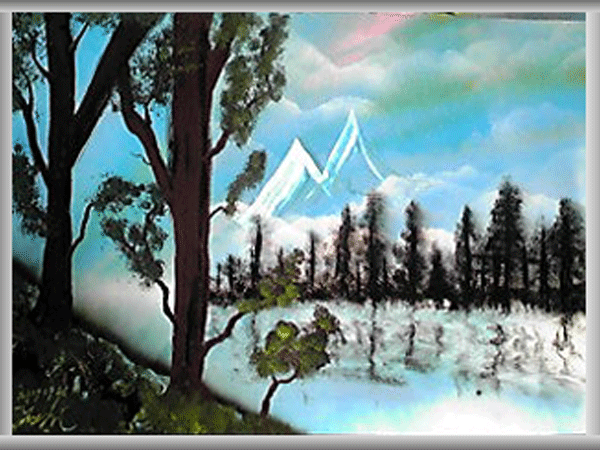 タイトル【Bule Sky Forest】
※Click on the picture, you will see an enlarged image.
Make a Bookmark
A variety of pictures on different themes, like the universe, animals, nature, and mysteries, are available from the Art Page menu. Please take a look.

If you wish to add this page to your favorites, please click the "Bookmark" button below.